It has been just over a week since I started taking the
4x Probiotic from Member's Mark
. When I started this journey I knew the benefits of probiotics but needed an easier way to remember to take them. A couple of things really helped me in that. First the pill form, for some reason remembering to get the powder out of the refrigerator just wasn't happening. Second the pills are bubble sealed in sheets with the days of the week printed on the back , seriously could the have made it any easier for me,probably not...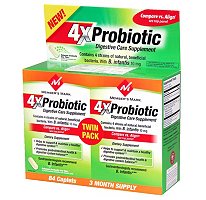 After only 3 days I started to notice a difference. My stomach and digestive tract wasn't making as many noises. It all seemed to settle better. I also notice a change in how things smell (especially me personally). When I posted the first part of this journey I told you I was going to be honest. I noticed that I didn't smell as sour. I don't know how else to explain it, it wasn't a sweet smell just a natural smell. This late summer has been hot here, we normally see September temps in the 70's over the past 11 days we have seen more 90 + degree days then we have had all year. I know for some that isn't really hot but for us it is... Needless to say a girl working outside in the garden and harvesting produce gets really hot in 80-90+ degree heat and tends to sweet some... so I noticed that change. I also noticed that I wasn't craving as much sugar. I don't know if the probiotics actually had anything to do with it or not.
I read the label for per caplet facts and was impressed with 10mg of Bifidobacterium per serving and 15mg of Probiotic Blend (B.lactis, B. longum, and B.bifidum) . I don't necessarily know what they are but when compared to the powdered probiotics I had been taking 1 caplet of the Member's Mark container more than the 1/4 teaspoon of powder I was mixing in water did. I know I still have a full box plus the remaining weeks in the first box, and I plan on using them until they are gone.
I know Member's Mark 4x Probotics are available at
Sam's Club
and I am hoping they will be available at Walmart someday. If you are in a state where Sam's Club is located remember to like their
Facebook page
to keep up on whats hot
This post has been compensated as part of a social shopper insights study for
Collective Bias
. The experience is mine and all opinions are mine. In the future I may post additional blogs where this item is mentioned. Any further mention of this product will be unsolicited.