Bloggy Boot Camp that is...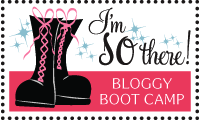 Thanks to
MadHatterMom
I won a ticket to the
Bloggy Boot Camp in Seattle
... I can't wait for June 4th to get here.... I was going over the list of speakers and am super excited to hear these speakers, most of whom I follow on twitter... There is something about meeting/ hearing speakers in real life rather than just online comments via
Twitter
and
Facebook
. Don't get me wrong I am very addicted to both social networks, but I still thrive on some real interactions.
The whole thing became very real today when Tina forwarded me the ticket via email... Now to figure out where I am going to stay... at $110 (plus taxes) a hotel room is not realistic....